(August 31, 2001) Screenshots Update

I have added better screenshots for FFX than I had before. They are only from a CG sequence, but better than what I had none the less. They are of a Blitzball CG scene from FFX as a matter of fact. I'm tellin' ya, I get more and more excited about this game everytime I see a CG animation, or read something new about it.

Oh BTW, try to get your hands on the latest PSM. It has some interesting tidbits of info for FFX, not to mention some exclusive screenshots of battles, summons, etc. And if your wondering, I got the Blitzball screens from a movie at IGN. So you may want to go check that out as well.

Oh yea... it seems The GIA is having some major technical difficulties with their site. I myself hope they pull through it all. And If you want to help them out, or want to know more about it all, go to their main page. They'll explain it all from there. Anyways, thats news for now.


---
(August 27, 2001) Square: What's Next?
After FFX and their first film, where do they go from here?

"...Upcoming games include the online-based Final Fantasy XI, Kingdom Hearts (Square's Disney RPG), and PS2 remakes of Final Fantasy VII, VIII, and IX. Beyond that, Square is working on joint projects with Namco and Enix for it's PlayOnline service, the first of which we should see early next year. Finally, Final Fantasy XII is already in development, with a projected Japanese release date of March 2003.
Hopefully, next year we will see Square get back on track as its new projects heat up." - PSM (PS2 & Playstation Magazine)
Source - PSM (PS2 & Playstation Magazine)


---
(August 26, 2001) Final Fantasy Media
Got 6 FFXI screenshots and 12 FFX wallpapers for ya


---
(August 25, 2001) Final Fantasy Anime...
Final Fantasy, and Anime fans rejoice!

"Following close on the heels of the Final Fantasy movie, Square announced plans for a Final Fantasy anime series at this year's Avex anime rave festival in Japan. The series will be a collaboration between Studio GONZO producer/monster designer Yoshikazu Miyao, whose credits include various Gundam and Macross projects as well as Blue Submarine No. 6. Although no details have been revealed regarding plot or setting, there is a strong possibility that the series will be directly based off of one of the games, as was Square's last attempt at an animated Final Fantasy production: the aggressively mediocre Legend of the Crystals OVA, which took place in the future of the Final Fantasy V world. There is no word at this time on a possible US television run for the series, but given the strong and growing market for both anime and Final Fantasy in the US, at the very least a DVD release seems certain."
Source: The GIA
---
(April 10, 2001) TGS
Here's some pics of the booklet for FFX, from TGS.


Source: RPGFan
(Tuesday, April 10, 2001)

Here's some pics of the official Square booklet from TGS.

Source: www.RPGFan.com

(Thursday, April 5, 2001)

Square offered a line of Final Fantasy X jewelry akin to the FF VIII Griever necklace at TGS. Three items, all silver, were availble: Tidus' heirloom pendant (15,000 yen, or about $133 US), a ring emblazoned with the logo of his Blitzball team (9,800 yen, or $84 US), and Yuna's necklace (20,000 yen, or $180 US). Here are the pics:

(click pics for larger views)

Also, in other news:

Due out in 2002, a duo of approximately 8" plus, fully articulated, and wonderfully painted figures of Tidus and Yuna.

Heres a stunning look at Koto's action figure line based on the highly anticipated TENTH Final Fantasy video game: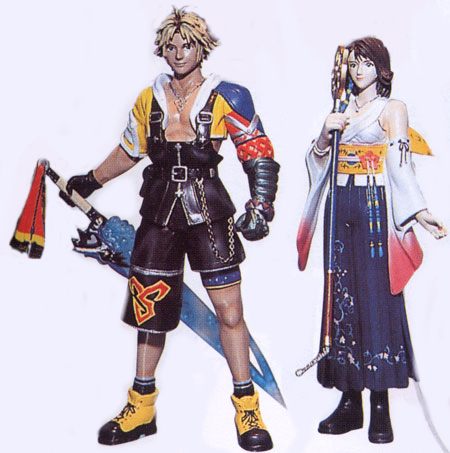 (Click pic for a larger view)

Source:

I also updated The GIA's FFX wrap up page in the FFX section and added a Misc. section in there as well.

(Tuesday, April 3, 2001)

I finally put up some screenshots for FFX, go check 'em out.

Also, a new feature was added to the FFX section called "GIA's FFX Info. Wrap Up". If you want to know how FFX is gonna be, check that feature out. TONS of info.

(Friday, March 30, 2001)

Well, I suppose you all know that FFX was playable today at TGS in Japan. Of course I WOULD have screens/info for it, but I have'nt had time to do that.

Anyway, to excuse myself, I have a track from FFX("Yuna's Melody"), and am willing to give it away to the next 15 people who sign my guestbook. Just leave your emails and I'll get back to ya. I also have a scan of the CD with the track "Yuna's Melody" on it

Here's a scan of the CD:
(Thanx to www.thegia.com for the scan)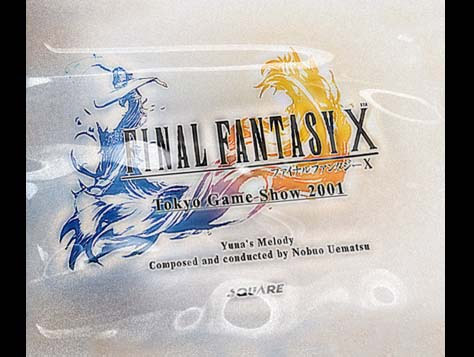 (Click image for larger picture)
(Wednesday, March 28, 2001)

New info for FFX has been squeazed out of some of the developement team of FFX, in an interview with them. The people featured were the art director Yusuke Naora, the battle director Tsuchida Toshiro, the scenario writer Kazunari Nojima, the character designer Tetsuya Nomura, and the cheif director Yoshinori Kitase.
to read the interview.

Still can't wait till the end of this month at the TGS! I'll have new pics and possibly movies, for FFX, from the TGS, so stay put.

(Thanx to www.square-x.com for the interview transcript!)

(Wednesday, March 14, 2001)

It was reported that at the end of this month at the Tokyo Game Show(lasting March 30-April 1), that Square will be showing more footage of FFX. It hasnt been said what type of footage this will be, but it will be footage none the less. FFX had not been previously confirmed to show up, by the way.

(Monday, March 12, 2001)

I am launching a site for my game, since I felt it was appropriate to. Anyway, here it is:

Final Fantasy: A Shadow of the Past

There's not much there now, but there soon will be.

(Wednesday, February 28, 2001)

This isn't really FF news, but I'd like to announce something. I've been making an RPG lately with a program called RPGMaker 2000, maybe you've heard of it. It's called "Final Fantasy: A Shadow of the Past"

Anyway, it's about Shadow's past and what exactly happened to him that would have changed his attitude that much in FFVI. It stars of course Shadow and his friend Baram, and who couldn't forget Shadow's little friend Interceptor, eh?

A fellow partner, from the Software Company: DHS, P0sitr0nic is helping me with the maps and what not. I will put up screenshots, if any of you care at all, soon, so watch for those.

If any Comments, suggestions, etc. contact me by email, sign the Guestbook or discuss it in the Forums :)

(Tuesday, February 27, 2001)

I've got 9 new screenshots for FF II for the Wonderswan Color. Also, 4 Yoshitaka Amano character designs, too.

Some other pretty cool news about FF II on the Wonderswan Color: It was mentioned that extra scenes and additional text have been added to make the story a more enjoyable and full experience. Yea, your mad right? Why change a masterpiece? Square knows it would really upset fans(expecially diehard's) to change the story completely. Well, they have a way to prevent that from happening. Upon starting the game, you can choose wether to play the NEW version or the OLD version. Isn't that just peachy!?

Also, unchanged, is of course the gameplay in FF II, that never made it into the other Final Fantasies. If unfamiliar to these features, one is called the "Skill Degree" system: Somwhat of a replica to Secret of Mana's weapon system, allowing your weapon to gain levels, depending on how often they are used. In addiditon, another is a feature called the "Word Memory" system, allowing the player to obtain keywords from talking to other characters. The key words can later on be used to get more information from other NPC's.

(Friday, February 23, 2001)

3 NEW screenshots for FF II have been added, and the release date has been fixed, in the FF II section.

(Wednesday, February 21, 2001)

Well, we knew it was comning. Square released the official logo for Final Fantasy II on Wonderswan Color:


(Click image to see full size)

(If anybody's interested, the logo has Queen Hilda, the leader of the battle against the Paramekian Empire in it)

Also, to note there's been rumors flying around for the past couple of days about Nintendo and Square becoming buddy's once again, or at least working on a project together.

One rumor I've heard is that they're making an RPG featuring all your favorite Nintendo and Sega caracters. Another one is that Square wants to make a completely different Final Fantasy on a different platform(I'm of course implying the Nintendo Game Boy Advance). Somewhat of some proof is that Square will cease development for Wonderswan Color once Wildcard and Final Fantasy II are released. All these are rumors though, so we'll all have to wait and see what happens *sigh*...

And finally of course, I will keep you posted if any other things pop out about Final Fantasy.

(Tuesday, February 20, 2001)

Final Fantasy II on Wonderswan Color has been dalayed. It's original release for March has made a slight jump to it's new release scheduled for May. No reason was given other than the the questionable fact that the Gameboy advance is going to be released in March, the same time of the original release date for Final Fatnasy II on Wonderswan Color.

(Saturday, February 10, 2001)

I finished modifying the FFVII, VIII, and IX sections, so the character profiles are back up. I will add more movie pics soon, so look for those.

(Friday, February 9, 2001)

This may be old news, but I'll report it none the less. It seems the battle director for FFX is that of which who directed the Front Mission series(Toshiro Tsuchida). So we may have to say goodbye to old active time battles and say hello to strategic battles such as character positioning, or maybe even more features. But in the end they DO plan to accomplish a very well balanced battle system, so I don't think we have to worry too much.

(Friday, February 9, 2001)

Well guys, thought I was gone? HAH! Ya can't get rid of me! I'm back and had to redo my whole site due to problems with Tripod, so I will still have updates and news. FFVII, IX, and VIII's character sections still need to be modified, so wait for those. I the meantime, check out some new FFX and XI pics and slightly other modified things.